Team
---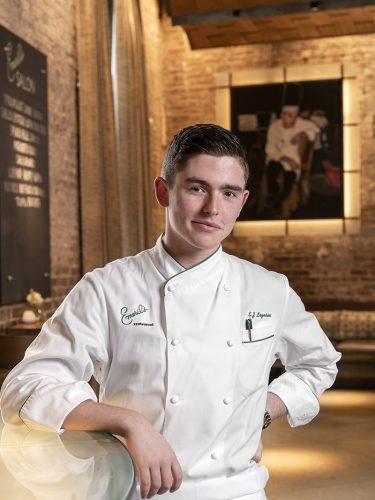 EJ Lagasse fell in love with food at a very young age. As the son of Chef Emeril Lagasse, he spent most of his young life in kitchens and at home the family table was a central part of each day. Cooking with his dad at home or exploring new culinary experiences were fundamental to his childhood and instilled a passion for food that continues to grow.
At 13, he started working in the kitchen at Meril Restaurant. Throughout high school, he continued working for his father at Emeril's Coastal. During summer breaks, Lagasse had an opportunity to stage at esteemed restaurants such as Café Boulud and Le Bernardin in New York City. EJ gained invaluable experience working under culinary icons Daniel Boulud & Eric Ripert whom he still credits as mentors today. After graduating from culinary school at Johnson & Wales, he traveled and worked abroad at Core by Clare Smyth in Notting Hill and Frantzén in Stockholm.
In 2022, he returned to New Orleans to reopen Emeril's Restaurant, bringing the new and modern techniques he learned abroad to refine the menu at the flagship. Today, he leads the day-to-day culinary development as Chef Patron at Emeril's Restaurant. Lagasse prides himself in fusing together the bounty of Southeast Louisiana produce with modern techniques to create a refined menu that tells a story through food.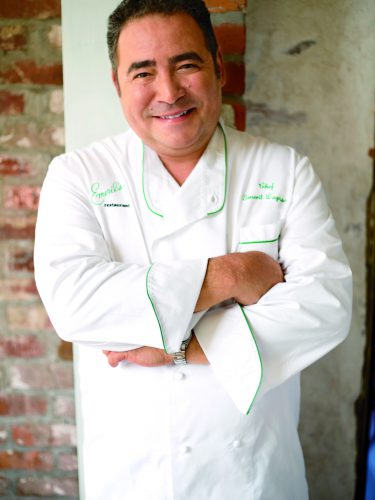 Owner, Chef
Emeril Lagasse
---
Emeril Lagasse is the chef/proprietor of 8 restaurants, including three in New Orleans (Emeril's, Meril, and Emeril's Table at the MSY Airport); two in Las Vegas (Emeril's New Orleans Fish House and Delmonico Steakhouse); one in Miramar Beach, Florida (Emeril's Coastal); and his most recent and his first restaurants at sea, Emeril's Bistro 1396 on Carnival Cruise Line's Mardi Gras and Emeril's Bistro 1397 on Carnival Cruise Line's Celebration.
As a national TV personality, he has hosted more than 2,000 shows on the Food Network and was a food correspondent for ABC's "Good Morning America." Most notably, Amazon launched an original series featuring Lagasse called Eat the World with Emeril Lagasse. The series received five daytime Emmy nominations and won Outstanding Culinary Program.  The series was also a James Beard semifinalist in the category Outstanding Personality of Host. Lagasse has appeared as a guest judge in five seasons of Bravo's hit food series, "Top Chef," and two seasons of "Top Chef Jr".  He was named a co-host on three seasons of the "Rachael Ray Show." Most recently, The Roku Channel released two original series, "Emeril Tailgates" and "Emeril Cooks."  Lagasse is the bestselling author of 19 cookbooks, the latest titled Essential Emeril: Favorite Recipes and Hard-Won Wisdom from My Life in the Kitchen.
In 2002, Lagasse established the Emeril Lagasse Foundation to support children's educational programs that inspire and mentor young people through the culinary arts, nutrition, healthy eating, and important life skills. To date, the Foundation has distributed over $18 million in grants benefitting children's charities in New Orleans, Las Vegas and on the Gulf Coast. In 2013, Lagasse was named the Humanitarian of the Year by the James Beard Foundation for his dedicated efforts to further the culinary arts in America, as well as his philanthropic work supporting children's educational programs through his Foundation.
Lagasse's restaurant company, The Emeril Group, is located in New Orleans and houses culinary operations and a test kitchen for recipe development. For more information visit emerilsrestaurants.com.