Team
---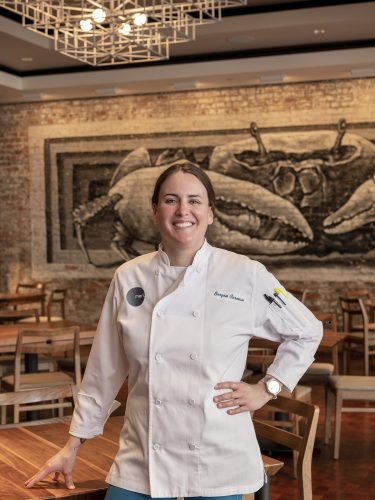 Chef de Cuisine
Bergen Carman
---
Bergen Carman now serves as the chef of Emeril Lagasse's youngest New Orleans restaurant –Meril. Working as the pastry chef since it's opening, Bergen has watched the business grow into both a locals' and tourists' spot alike. Growing up in Slidell, or on the Northshore, Bergen was never far away from New Orleans and the unique aura that draws people to the city.
Bergen's love of cooking began at a young age. Whether in the kitchen alone trying to bake the perfect pie or watching her grandmother effortlessly whip up a dessert platter, Bergen always felt at home in the kitchen. But cooking, and baking specifically, remained an amateur hobby and personal passion for many years, as she pursued her Bachelor's degree in English at Louisiana State University.
After graduating, Bergen moved to New Orleans to pursue her Masters degree and unwittingly her career in food. With just her raw talent and eagerness to learn, Bergen landed a job as a pastry cook at Emeril's Delmonico. She spent years working her way up, mastering the line and then moving on to production. In this she flourished, creating specials and menu items that took New Orleans' standards, like bread pudding, and gave them new life.
So, when asked to be a part of Meril, Bergen embraced the opportunity. Creating and executing both sweet and savory dishes throughout the years, Bergen holds her fingers firmly on the pulse that is Meril. The intriguing nature of Meril, as a restaurant concept, is that it's not a concept—it's a feeling.
Food is fun. Food is love. Food is memory. Food is comfort.
At Meril, Bergen aims to recreate the childlike joy that food can evoke—with a little something extra just to keep it interesting.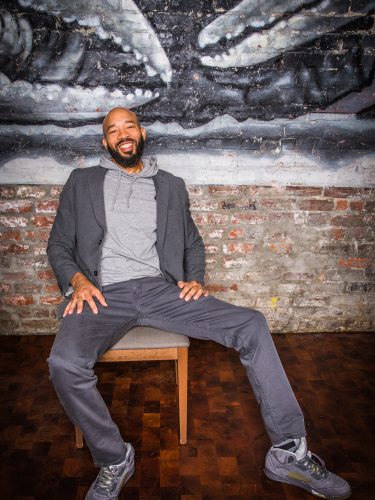 General Manager
Marcus Benoit
---
Marcus Benoit has been a part of the Emeril's family for 13 years and his strong work ethic, outstanding character and natural leadership qualities are to be admired. He joined the Emeril's team as a Back Waiter at Emeril's New Orleans in 2008, quickly being promoted to Front Waiter then Captain before transferring to Emeril's Delmonico and joining the management team in 2013. Marcus served as the restaurant's Dining Room Manager for a year before returning to Emeril's New Orleans in 2014. In 2018 he joined the team at Meril and as of Friday February 8th has been named the restaurant's General Manager.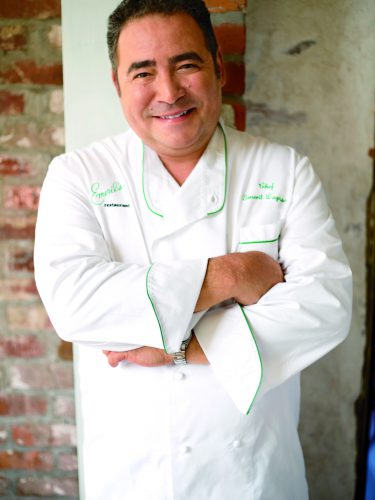 Owner, Chef
Emeril Lagasse
---
Emeril Lagasse is the chef/proprietor of 8 restaurants, including three in New Orleans (Emeril's, Meril, and Emeril's Table at the MSY Airport); two in Las Vegas (Emeril's New Orleans Fish House and Delmonico Steakhouse); one in Miramar Beach, Florida (Emeril's Coastal); and his most recent and his first restaurants at sea, Emeril's Bistro 1396 on Carnival Cruise Line's Mardi Gras and Emeril's Bistro 1397 on Carnival Cruise Line's Celebration.
As a national TV personality, he has hosted more than 2,000 shows on the Food Network and was a food correspondent for ABC's "Good Morning America." Most notably, Amazon launched an original series featuring Lagasse called Eat the World with Emeril Lagasse. The series received five daytime Emmy nominations and won Outstanding Culinary Program.  The series was also a James Beard semifinalist in the category Outstanding Personality of Host. Lagasse has appeared as a guest judge in five seasons of Bravo's hit food series, "Top Chef," and two seasons of "Top Chef Jr".  He was named a co-host on three seasons of the "Rachael Ray Show." Most recently, The Roku Channel released two original series, "Emeril Tailgates" and "Emeril Cooks."  Lagasse is the bestselling author of 19 cookbooks, the latest titled Essential Emeril: Favorite Recipes and Hard-Won Wisdom from My Life in the Kitchen.
In 2002, Lagasse established the Emeril Lagasse Foundation to support children's educational programs that inspire and mentor young people through the culinary arts, nutrition, healthy eating, and important life skills. To date, the Foundation has distributed over $18 million in grants benefitting children's charities in New Orleans, Las Vegas and on the Gulf Coast. In 2013, Lagasse was named the Humanitarian of the Year by the James Beard Foundation for his dedicated efforts to further the culinary arts in America, as well as his philanthropic work supporting children's educational programs through his Foundation.
Lagasse's restaurant company, The Emeril Group, is located in New Orleans and houses culinary operations and a test kitchen for recipe development. For more information visit emerilsrestaurants.com.