Team
---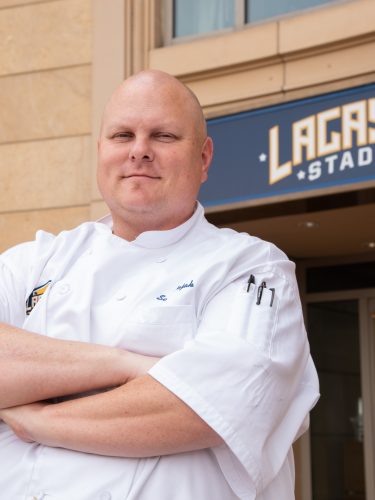 Chef de Cuisine
Scott Pajak
---
Growing up in Lancaster, NY, Scott Pajak could often be found in the kitchen – cooking chicken noodle soup and sauces with his grandparents, or helping his dad tend the grill and savoring the smoky aroma of barbecue.
From his very first job as a dishwasher at a local Italian restaurant, Pajak's career has been centered on food ever since. In 1996, he moved to Las Vegas and enrolled at the University of Nevada, Las Vegas, from which he received a bachelor's of Culinary Arts Management in 2003. His most coveted experience while in culinary school was during a 6 month internship in Nanjing, China, where he mastered the art of wok cooking and had the privilege of preparing his first traditional Thanksgiving meal.
While at UNLV, he worked in numerous restaurants around Las Vegas, including Planet Hollywood, New York New York Casino and TPC Country Club, where he prepared meals for participants on the PGA Tour.
In 2002, Pajak entered the kitchen at Emeril Lagasse's seafood eatery Emeril's New Orleans Fish House as a line cook. Over the next 9 years, he would work in nearly every position in Lagasse's kitchen, from saucier to butcher, eventually rising to the post of sous chef. He helped write the restaurant's daily menus and showed off his creativity as he cooked for guests at the chef's kitchen table.
In May 2011, Pajak was given the opportunity to lead his own team at one of Vegas' biggest restaurants and sports venues, when he was promoted by Emeril Lagasse to chef de cuisine of Lagasse's Stadium. At Stadium, he draws upon his love of the grill, the art of bold seasoning and his experiences in Lagasse's fine-dining restaurant, to craft the menu of classic American favorites.
When he's not working to feed hungry fans at Lagasse's Stadium, Pajak enjoys watching the game and cooking some of his favorite tailgating food for his friends and family. Hailing from Buffalo, NY, it's usually buffalo wings or kicked-up chili with black beans and ham hock. But his go-to dish at the Stadium – grilled ribeye – still takes him back to his youth.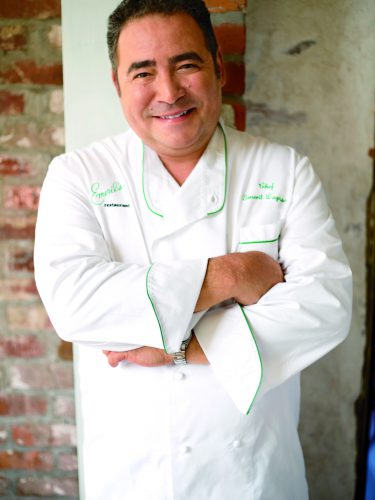 Emeril Lagasse is the chef/proprietor of 11 restaurants, including four in New Orleans (Emeril's, NOLA, Emeril's Delmonico and Meril); three in Las Vegas (Emeril's New Orleans Fish House, Delmonico Steakhouse and Lagasse's Stadium); three at Wind Creek Bethlehem in Pennsylvania (Emeril's Fish House, Emeril's Chop House and Burgers And More by Emeril); and most recently, one in Miramar Beach, Florida (Emeril's Coastal Italian).
As a national TV personality, he has hosted more than 2,000 shows on the Food Network, and is the food correspondent for ABC's "Good Morning America." Most recently, Amazon launched an original series featuring Lagasse called Eat the World with Emeril Lagasse. The series received five daytime Emmy nominations and won Outstanding Culinary Program.  The series was also a James Beard semifinalist in the category Outstanding Personality of Host. Lagasse has appeared as a guest judge in Bravo's hit food series, "Top Chef," was named a co-host on the "Rachael Ray Show," and has appeared on the Cooking Channel with five seasons of "Emeril's Florida." He is the bestselling author of 19 cookbooks, the latest titled Essential Emeril: Favorite Recipes and Hard-Won Wisdom from My Life in the Kitchen.
In 2002, Lagasse established the Emeril Lagasse Foundation to support children's educational programs that inspire and mentor young people through the culinary arts, nutrition, healthy eating, and important life skills. To date, the Foundation has distributed $10 million in grants benefitting children's charities in New Orleans, Las Vegas and on the Gulf Coast. In 2013, Lagasse was named the Humanitarian of the Year by the James Beard Foundation for his dedicated efforts to further the culinary arts in America, as well as his philanthropic work supporting children's educational programs through his Foundation.
Lagasse's restaurant company, Emeril's Homebase, is located in New Orleans and houses culinary operations and a test kitchen for recipe development. For more information visit emerilsrestaurants.com.