Team
---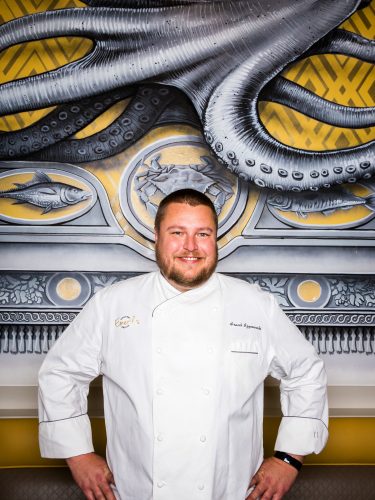 Chef de Cuisine
Frank Szymanski
---
Frank Szymanski serves as Chef de Cuisine at Emeril's Coastal Italian, Chef Emeril Lagasse's latest restaurant, located in Miramar Beach, Florida.
Chef Frank grew up on the Gulf Coast in Long Beach, Mississippi surrounded by a family that loved both cooking and fishing. At the age of 14, Frank began washing dishes in a local restaurant, but never imagined that he would make a career out of the culinary arts. While in school, he studied marine biology as he was fascinated by the water. His passion for marine biology coupled with his love of cooking led him to pursue cooking as a profession and he set off for culinary school at Johnson and Wales University in Charlotte, North Carolina. During his years there, Szymanski worked at Mimosa Grill in Charlotte and apprenticed at Peristyle Restaurant in New Orleans.
Upon graduating from culinary school in 2007, Chef Frank joined the Emeril Lagasse Restaurant family as a cook at Emeril's Gulf Coast Fish House in Gulfport, Mississippi. In 2008, he was promoted to sous chef and in 2010 Szymanski relocated to New Orleans to join the team at Emeril's French Quarter restaurant, NOLA. Chef Frank left the Emeril organization in 2011 to pursue other opportunities including chef de cuisine positions at Nick's in Jackson, Mississippi and at Louisiana Pantry in Orange Beach, Alabama. In 2016 he teamed up with Chef David Raines, a former NOLA colleague, at The Flora Butcher, where he helped open the restaurant as the General Manager.
In 2017, Chef Frank rejoined the Emeril Lagasse Restaurant Group as a sous chef at Emeril's Coastal Italian where he now serves as Chef de Cuisine. Chef Emeril and Chef Frank will continue to work closely in his new position. In addition to his years of experience working for Chef Emeril and along the Gulf Coast, Szymanski brings his passion for cooking and love of seafood to his role at Emeril's Coastal Italian.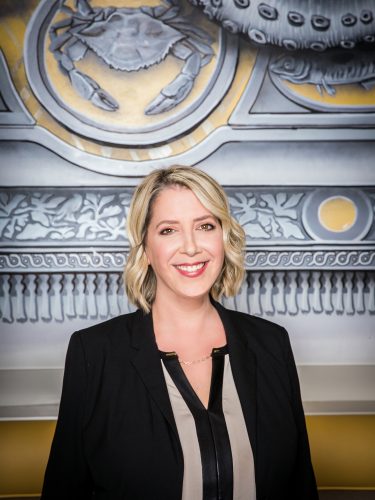 General Manager
Annie Erickson
---
Annie Erickson is the General Manager of Emeril's Coastal Italian, Chef Emeril Lagasse's newest restaurant located in Miramar Beach, FL. Annie joined Emeril's Restaurants in 2017 as part of the restaurants opening team as a server. Within two months she was promoted to management and three months later assumed the position of Assistant General Manager. Annie received her Court of Master Sommelier Level 1 Certification in 2017. Taking over the helm at Coastal from a tenured professional within the Emeril Restaurant group taught her much of her professionalism and demeanor as a GM. Her philosophy is simple: to make today better than yesterday.
Growing up, Annie moved around a lot; as far west as Hawaii and as far east as New York, but she calls Chicago home, returning there after obtaining her acting degree from Washington University in St. Louis, MO. What started out as a part-time serving job while waiting for her acting career to start quickly turned into a new lifelong passion. As a server, she loved being the face of whatever her Chef had to offer. As a bartender, she loved getting to know her guests. As a trainer, she loved sharing her knowledge and experience with younger staff. As a sommelier, she loves the challenge of pairing the perfect wine with her chefs' dishes. As a manager, she loves guiding her teams to move forward seeking knowledge along the way.
Her perfect meal at Coastal starts with Miss Hilda's Favish with Charred Octopus, moves onto the Kurobata Pork Milanese, and finishes with a slice of decadent Olive Oil Cake. Annie also prides the restaurant on their wine selection; while the list surely carries some crowd favorites, there are lesser known wines that she encourages guests to take a risk and try something new.
When not at work you can spot Annie with Coastal's own Chef Frank and Chef Tommy at the local bowling alley for some friendly competition and great conversation.
Originally from Turkey, Doruk Gurunlu was born and raised in Istanbul and moved to the United States in 2005. In 2017, Gurunlu received his first level Sommelier certification and in 2020 received his advanced certification. He started his career in the hospitality industry in 1996 when he attended Hotel and Tourism Vocational High School before going to college in Istanbul. Since moving to the United States, Gurunlu has worked in restaurants in Austin, Texas, and on the Emerald Coast and was a part of the opening team at Emeril's Coastal.
In May 2021, Gurunlu returned to Emeril's Coastal as the Sommelier. Gurunlu perused becoming a Sommelier because it is challenging and endless learning. He enjoys learning about history, geography, food, and language and sharing his knowledge with guests to enhance their dining experiences. Gurunlu and his wife, Heather, love to travel together, taking road trips around wine regions. They've visited Bordeaux, Burgundy, Rhone Valley, Provence, Piedmont, Penedes, Rías Baixas, Greece, California, and Oregon, to name a few.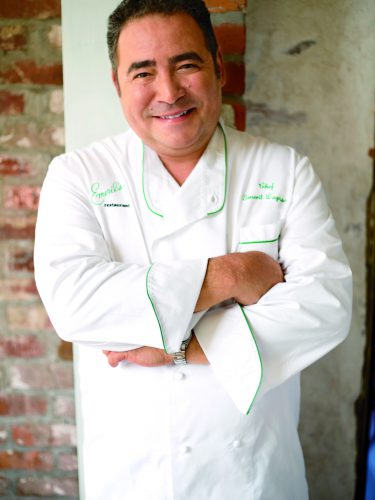 Emeril Lagasse is the chef/proprietor of 10 restaurants, including five in New Orleans (Emeril's, NOLA,  Emeril's Delmonico, Meril and Emeril's Table at the MSY Airport); two in Las Vegas (Emeril's New Orleans Fish House and Delmonico Steakhouse); two at the Wind Creek Bethlehem in Pennsylvania (Emeril's Chop House and Burgers And More by Emeril); and one in Miramar Beach, Florida (Emeril's Coastal). His 11th restaurant, and his first restaurant at sea, Emeril's Bistro 1396 will open on Carnival Cruise Line's Mardi Gras ship set to sail in 2021. 
As a national TV personality, he has hosted more than 2,000 shows on the Food Network, and is the food correspondent for ABC's "Good Morning America." Most notably, Amazon launched an original series featuring Lagasse called Eat the World with Emeril Lagasse. The series received five daytime Emmy nominations and won Outstanding Culinary Program.  The series was also a James Beard semifinalist in the category Outstanding Personality of Host. Lagasse has appeared as a guest judge in five seasons of Bravo's hit food series, "Top Chef," and two seasons of "Top Chef Jr".  He was named a co-host on the last three seasons of the "Rachael Ray Show," and has appeared on the Cooking Channel with five seasons of "Emeril's Florida." Lagasse is the bestselling author of 19 cookbooks, the latest titled Essential Emeril: Favorite Recipes and Hard-Won Wisdom from My Life in the Kitchen. 
In 2002, Lagasse established the Emeril Lagasse Foundation to support children's educational programs that inspire and mentor young people through the culinary arts, nutrition, healthy eating, and important life skills. To date, the Foundation has distributed $14 million in grants benefitting children's charities in New Orleans, Las Vegas and on the Gulf Coast. In 2013, Lagasse was named the Humanitarian of the Year by the James Beard Foundation for his dedicated efforts to further the culinary arts in America, as well as his philanthropic work supporting children's educational programs through his Foundation. 
In January 2019, Lagasse launched We Love Food Hospitality, a new consulting division of his culinary empire. We Love Food Hospitality consults with both existing and new concept restaurants on menu development, culinary training, and other restaurant operations. 
Lagasse's restaurant company, Emeril's Homebase, is located in New Orleans and houses culinary operations and a test kitchen for recipe development. For more information visit emerilsrestaurants.com.