Team
---
Executive Chef
Victor Bock
---
Chef Victor Bock currently oversees six restaurants and manages well over 400 food and beverage employees at Wind Creek Bethlehem. With nearly three decades of multi-regional cuisine experience, his extensive knowledge of the culinary arts has allowed him to become one of the region's most well-respected chefs.
Chef Bock graduated from the prestigious Culinary Institute of America in 1987. From there, he became the Restaurant and Catering Sous Chef at the Accomac Inn. While at the Inn, the restaurant received accolades from publications such as Bon Appétit and Gourmet. In 1991, Chef Bock became the Executive Chef at Window's on Steinman Park, a four-star French restaurant in Lancaster, Pa. While there, Chef Bock was nominated by the Chaine Des Rotisseur as one of the top 50 chefs in the Philadelphia area. Chef Bock went on to become the Executive Chef at the four-star, four-diamond Hotel Hershey. Bock was even featured on two PBS series: "Historic Hotels of America" and "Historic Chefs of America."
Chef Bock expanded his knowledge with stints as Executive Chef at the historic Greensboro Country Club and later the Bent Creek Country Club. From there, he became Executive Chef at the four-star, four-diamond Woodstock Inn and Resort before accepting his current position as Executive Chef, Food and Beverage at Wind Creek Bethlehem in 2009.
During his childhood, Chef Bock's mother sparked his love for cooking while raising him in rural York County, Pa. At age 15, he started working as a dishwasher at a country inn – soon finding himself working alongside the Chef.
Chef Bock has served on the Resort Food Executives Committee since 1985, a committee aimed at promoting culinary apprenticeship programs and the American Culinary Federation. In addition, Chef Bock has served on the Northampton Community College's advisory board for the past six years. Most recently, Chef Bock joined the Bethlehem Vocational-Technical Bridges Foundation, a scholarship program dedicated to providing deserving students the ability and financial support to fulfill career aspirations.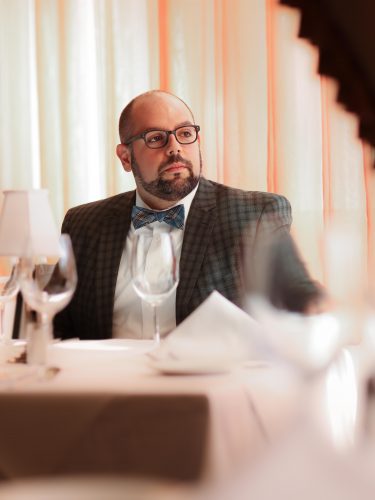 General Manager
Jason Lonigro
---
Jason Lonigro has touched every facet of the restaurant business. Lonigro began his career in high school at a Café Degas in New Orleans, Louisiana. After getting a job as a server at Emeril's Restaurant in New Orleans, Lonigro was promoted to floor manager in 2003. Over the next decade, Lonigro established his seniority at several Emeril restaurant locations including Emeril's NOLA, Emeril's Delmonico and Emeril's Gulf Coast Fish House – to name a few. In 2007, the well-respected restaurateur accepted the position of General Manager at Emeril's Fish House Gulf Coast at twenty-five years old. Lonigro went on to become the General Manager at Emeril's Chop House from 2009 to 2013. In 2015, he returned as the General Manager of Emeril's Chop House at Wind Creek Bethlehem.
In addition to operating award-winning restaurants, Lonigro recently attended and passed the BAR 5-Day™, an instructive program that teaches attendees the pedigree and use of distilled spirits that form the foundation of cocktails. The program accepts a mere 65 individuals each year.
Lonigro's family owned and operated a dish machine company, making him no stranger to the food business. As a child, Lonigro was exposed to some of the best restaurants and bars in New Orleans – experiences that not only peaked his interest, but also helped to cultivate his success in the industry.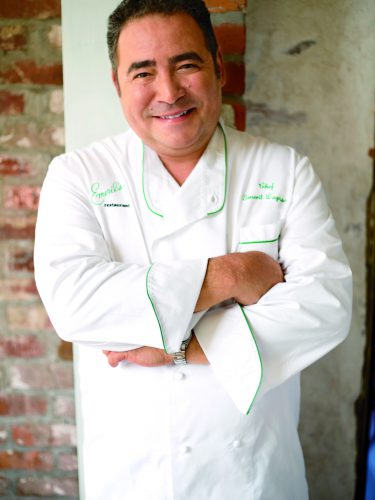 Emeril Lagasse is the chef/proprietor of 10 restaurants, including five in New Orleans (Emeril's, NOLA,  Emeril's Delmonico, Meril and Emeril's Table at the MSY Airport); two in Las Vegas (Emeril's New Orleans Fish House and Delmonico Steakhouse); two at the Wind Creek Bethlehem in Pennsylvania (Emeril's Chop House and Burgers And More by Emeril); and one in Miramar Beach, Florida (Emeril's Coastal). His 11th restaurant, and his first restaurant at sea, Emeril's Bistro 1396 will open on Carnival Cruise Line's Mardi Gras ship set to sail in 2021. 
As a national TV personality, he has hosted more than 2,000 shows on the Food Network, and is the food correspondent for ABC's "Good Morning America." Most notably, Amazon launched an original series featuring Lagasse called Eat the World with Emeril Lagasse. The series received five daytime Emmy nominations and won Outstanding Culinary Program.  The series was also a James Beard semifinalist in the category Outstanding Personality of Host. Lagasse has appeared as a guest judge in five seasons of Bravo's hit food series, "Top Chef," and two seasons of "Top Chef Jr".  He was named a co-host on the last three seasons of the "Rachael Ray Show," and has appeared on the Cooking Channel with five seasons of "Emeril's Florida." Lagasse is the bestselling author of 19 cookbooks, the latest titled Essential Emeril: Favorite Recipes and Hard-Won Wisdom from My Life in the Kitchen. 
In 2002, Lagasse established the Emeril Lagasse Foundation to support children's educational programs that inspire and mentor young people through the culinary arts, nutrition, healthy eating, and important life skills. To date, the Foundation has distributed $14 million in grants benefitting children's charities in New Orleans, Las Vegas and on the Gulf Coast. In 2013, Lagasse was named the Humanitarian of the Year by the James Beard Foundation for his dedicated efforts to further the culinary arts in America, as well as his philanthropic work supporting children's educational programs through his Foundation. 
In January 2019, Lagasse launched We Love Food Hospitality, a new consulting division of his culinary empire. We Love Food Hospitality consults with both existing and new concept restaurants on menu development, culinary training, and other restaurant operations. 
Lagasse's restaurant company, Emeril's Homebase, is located in New Orleans and houses culinary operations and a test kitchen for recipe development. For more information visit emerilsrestaurants.com.