Team
---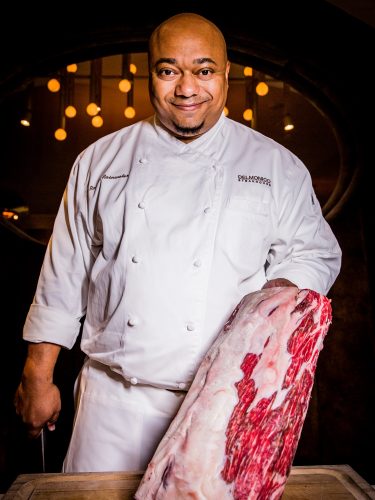 Chef de Cuisine
Ronnie Rainwater
---
Ronnie Rainwater was born and raised in Southern California outside of Los Angeles. He grew up in the kitchen, shadowing his Southern grandmother at the stove; anxious to taste anything he could get his hands on.
Chef Ronnie attended Western Culinary Institute in Portland, Oregon and obtained a Culinary Arts Degree in 1999. One of his early jobs in the industry was an internship in the kitchen at The Playboy Mansion in Beverly Hills, where he helped prepare dinners and private events for guests.
In June 1999, Ronnie was offered a position as a cook at Emeril Lagasse's Delmonico Steakhouse at The Venetian and moved to Las Vegas. In 2007, he was promoted to executive sous chef at the restaurant.
In January 2011, after working with Emeril for over 11 years at his restaurants in Las Vegas and on the East coast, he was tapped to become the next chef de cuisine of Delmonico Steakhouse.
Today, he leads the kitchen at Delmonico and oversees all facets of its culinary operations, from sourcing products, to managing the restaurant's in-house dry-aging program for prime U.S.D.A. beef, to crafting ambitious nightly tasting menus for guests at his kitchen table. His love of simple fresh ingredients has helped him cultivate close relationships with local farmers who supply the restaurant with their best products including beets, heirloom tomatoes, squash blossoms and seasonal herbs. A local orchard provides him with fresh apples and cider, along with the apple wood used to brine and smoke the restaurant's house cured bacon.
One of his favorite dishes on the menu, Delmonico's dry aged bone-in ribeye, may best represent his cooking philosophy and style in the kitchen: taking top quality products, preparing them simply and expertly, and pairing them with the comfort and hospitality that makes Delmonico Steakhouse's guests feel right at home.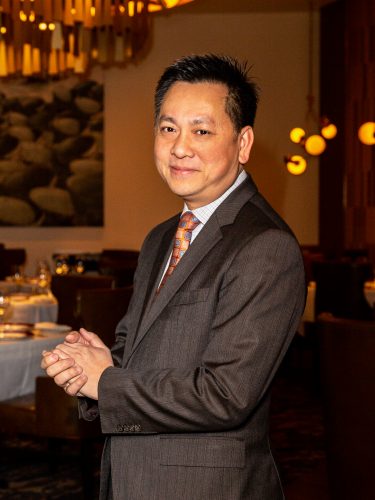 General Manager
Tuan Tran
---
Tuan Tran has worked with renowned Chef Emeril Lagasse for 23 consecutive years, working his way up from busboy to general manager of Lagasse's popular Delmonico Steakhouse in The Venetian Resort, Hotel & Casino. When asked why he enjoys his job, he simply replies: "I love working for Chef Emeril."
Tran was born in Vietnam but moved to New Orleans as a child with his family in 1979. He got his start in the restaurant industry as a teenager, working as a busboy at a restaurant on New Orleans' West Bank. When Chef Emeril Lagasse opened his first and eponymous restaurant in 1990, Tran applied for a busser position. "I had heard Emeril was a good chef at Commander's Palace," Tran says, "so I wanted to try out a new restaurant."
And he hasn't looked back. Starting at Emeril's, Tran moved through the ranks and Lagasse's other restaurants, helping to open NOLA Restaurant in 1992 as he worked through college. Tran attended Louisiana State University in Baton Rouge, working at NOLA on weekends. He graduated with a degree in sociology in 1997, but stayed with the restaurant, still loving the energy and excitement of the bustling French Quarter outpost.
Tran was promoted to Dining Room Manager at NOLA in 1999, before moving to Las Vegas in 2001 to work at another one of Lagasse's restaurants, Delmonico Steakhouse. Tuan became Delmonico's Assistant General Manager in 2008, and was promoted to General Manager in October 2012. Tran's mother, affectionately known as "Mama," continues to work at NOLA Restaurant, where she's the sole crafter and creator of the restaurant's famous appetizer, Miss Hay's Stuffed Chicken Wings.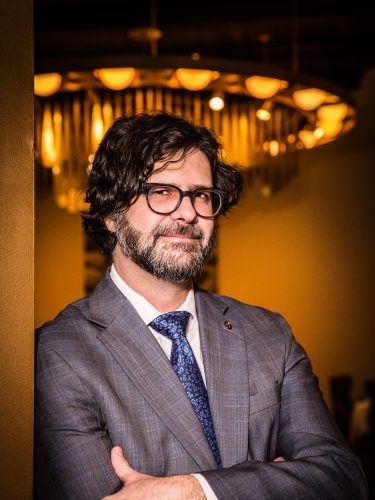 Sommelier Dylan Amos has been finding, tasting and recommending the best wine for Chef Emeril Lagasse since January 2011 in Charlotte, North Carolina at E2 Emeril's Eatery and at Delmonico Steakhouse since May 2015. Originally from Kentucky, Amos has been a Sommelier since 2003. He is passionate about wines that have a story to tell and the magic created by good friends, good food and good wine.
Amos now leads the wine program at Delmonico Steakhouse, an annual recipient of the prestigious Wine Spectator Grand Award every year since 2004. Delmonico Steakhouse's ever changing wine list is based on a seasonally changing menu, which motivates Amos to learn something new every day. Under his meticulous guidance and constant refinement, Delmonico's wine list remains one of the best in the world.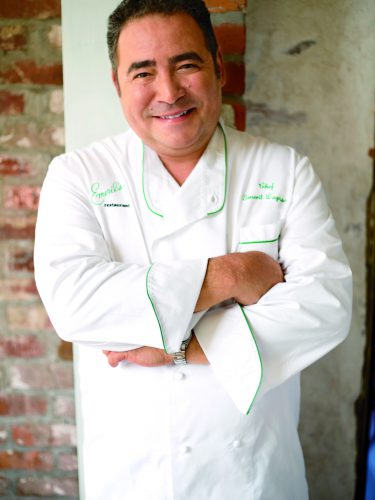 Emeril Lagasse is the chef/proprietor of 11 restaurants, including four in New Orleans (Emeril's, NOLA, Emeril's Delmonico and Meril); three in Las Vegas (Emeril's New Orleans Fish House, Delmonico Steakhouse and Lagasse's Stadium); three at Wind Creek Bethlehem in Pennsylvania (Emeril's Fish House, Emeril's Chop House and Burgers And More by Emeril); and most recently, one in Miramar Beach, Florida (Emeril's Coastal Italian).
As a national TV personality, he has hosted more than 2,000 shows on the Food Network, and is the food correspondent for ABC's "Good Morning America." Most recently, Amazon launched an original series featuring Lagasse called Eat the World with Emeril Lagasse. The series received five daytime Emmy nominations and won Outstanding Culinary Program.  The series was also a James Beard semifinalist in the category Outstanding Personality of Host. Lagasse has appeared as a guest judge in Bravo's hit food series, "Top Chef," was named a co-host on the "Rachael Ray Show," and has appeared on the Cooking Channel with five seasons of "Emeril's Florida." He is the bestselling author of 19 cookbooks, the latest titled Essential Emeril: Favorite Recipes and Hard-Won Wisdom from My Life in the Kitchen.
In 2002, Lagasse established the Emeril Lagasse Foundation to support children's educational programs that inspire and mentor young people through the culinary arts, nutrition, healthy eating, and important life skills. To date, the Foundation has distributed $10 million in grants benefitting children's charities in New Orleans, Las Vegas and on the Gulf Coast. In 2013, Lagasse was named the Humanitarian of the Year by the James Beard Foundation for his dedicated efforts to further the culinary arts in America, as well as his philanthropic work supporting children's educational programs through his Foundation.
Lagasse's restaurant company, Emeril's Homebase, is located in New Orleans and houses culinary operations and a test kitchen for recipe development. For more information visit emerilsrestaurants.com.