Team
---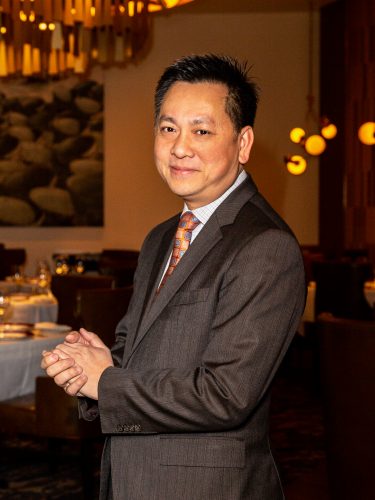 General Manager
Tuan Tran
---
Tuan Tran has worked with renowned Chef Emeril Lagasse for 31 consecutive years, working his way up from busboy to general manager of Lagasse's popular Delmonico Steakhouse in The Venetian Resort, Hotel & Casino. When asked why he enjoys his job, he simply replies: "I love working for Chef Emeril."
Tran was born in Vietnam but moved to New Orleans as a child with his family in 1979. He got his start in the restaurant industry as a teenager, working as a busboy at a restaurant on New Orleans' West Bank. When Chef Emeril Lagasse opened his first and eponymous restaurant in 1990, Tran applied for a busser position. "I had heard Emeril was a good chef at Commander's Palace," Tran says, "so I wanted to try out a new restaurant."
And he hasn't looked back. Starting at Emeril's, Tran moved through the ranks and Lagasse's other restaurants, helping to open NOLA Restaurant in 1992 as he worked through college. Tran attended Louisiana State University in Baton Rouge, working at NOLA on weekends. He graduated with a degree in sociology in 1997, but stayed with the restaurant, still loving the energy and excitement of the bustling French Quarter outpost.
Tran was promoted to Dining Room Manager at NOLA in 1999, before moving to Las Vegas in 2001 to work at another one of Lagasse's restaurants, Delmonico Steakhouse. Tuan became Delmonico's Assistant General Manager in 2008, and was promoted to General Manager in October 2012. Tran's mother, affectionately known as "Mama," continues to work at NOLA Restaurant, where she's the sole crafter and creator of the restaurant's famous appetizer, Miss Hay's Stuffed Chicken Wings.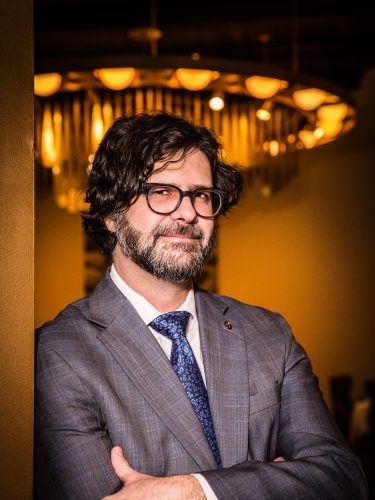 Sommelier Dylan Amos has been finding, tasting and recommending the best wine for Chef Emeril Lagasse since January 2011 in Charlotte, North Carolina at E2 Emeril's Eatery and at Delmonico Steakhouse since May 2015. Originally from Kentucky, Amos has been a Sommelier since 2003. He is passionate about wines that have a story to tell and the magic created by good friends, good food and good wine.
Amos now leads the wine program at Delmonico Steakhouse, an annual recipient of the prestigious Wine Spectator Grand Award every year since 2004. Delmonico Steakhouse's ever changing wine list is based on a seasonally changing menu, which motivates Amos to learn something new every day. Under his meticulous guidance and constant refinement, Delmonico's wine list remains one of the best in the world.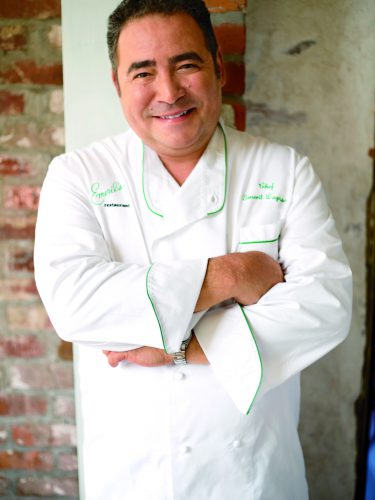 Emeril Lagasse is the chef/proprietor of 10 restaurants, including five in New Orleans (Emeril's, NOLA,  Emeril's Delmonico, Meril and Emeril's Table at the MSY Airport); two in Las Vegas (Emeril's New Orleans Fish House and Delmonico Steakhouse); two at the Wind Creek Bethlehem in Pennsylvania (Emeril's Chop House and Burgers And More by Emeril); and one in Miramar Beach, Florida (Emeril's Coastal). His 11th restaurant, and his first restaurant at sea, Emeril's Bistro 1396 will open on Carnival Cruise Line's Mardi Gras ship set to sail in 2021. 
As a national TV personality, he has hosted more than 2,000 shows on the Food Network, and is the food correspondent for ABC's "Good Morning America." Most notably, Amazon launched an original series featuring Lagasse called Eat the World with Emeril Lagasse. The series received five daytime Emmy nominations and won Outstanding Culinary Program.  The series was also a James Beard semifinalist in the category Outstanding Personality of Host. Lagasse has appeared as a guest judge in five seasons of Bravo's hit food series, "Top Chef," and two seasons of "Top Chef Jr".  He was named a co-host on the last three seasons of the "Rachael Ray Show," and has appeared on the Cooking Channel with five seasons of "Emeril's Florida." Lagasse is the bestselling author of 19 cookbooks, the latest titled Essential Emeril: Favorite Recipes and Hard-Won Wisdom from My Life in the Kitchen. 
In 2002, Lagasse established the Emeril Lagasse Foundation to support children's educational programs that inspire and mentor young people through the culinary arts, nutrition, healthy eating, and important life skills. To date, the Foundation has distributed $14 million in grants benefitting children's charities in New Orleans, Las Vegas and on the Gulf Coast. In 2013, Lagasse was named the Humanitarian of the Year by the James Beard Foundation for his dedicated efforts to further the culinary arts in America, as well as his philanthropic work supporting children's educational programs through his Foundation. 
In January 2019, Lagasse launched We Love Food Hospitality, a new consulting division of his culinary empire. We Love Food Hospitality consults with both existing and new concept restaurants on menu development, culinary training, and other restaurant operations. 
Lagasse's restaurant company, Emeril's Homebase, is located in New Orleans and houses culinary operations and a test kitchen for recipe development. For more information visit emerilsrestaurants.com.