Article
Thanksgiving Pies Available at Meril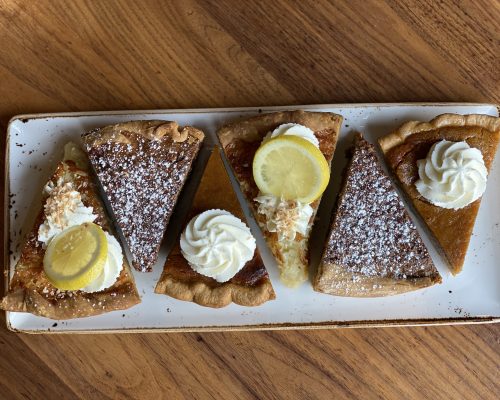 Meril is offering a selection of handmade pies by Pastry Chef Bergen Carman for pre-order and pick up just in time for Thanksgiving.
Pecan Pie is made with Louisiana pecans and flavored with vanilla. It is the same Pecan Pie on our menu! $35
Fireball Pumpkin Pie is flavored with cinnamon, ginger, allspice, and nutmeg, with the added kick of Fireball Whisky. $30
Coconut-Buttermilk Pie is a baked custard pie flavored with lemon and studded with coconut flakes. $25
Customers can call the restaurant reservation line at (504) 526-3745 to place all orders. Orders can be placed until Friday November 22nd at 5:00 pm CST.
Pies can be picked up at Meril Restaurant, located at 424 Girod St. in the CBD, on Wednesday November 27th between 2:00 pm – 6:00 pm CST.