Article
A Portrait of "New New Orleans"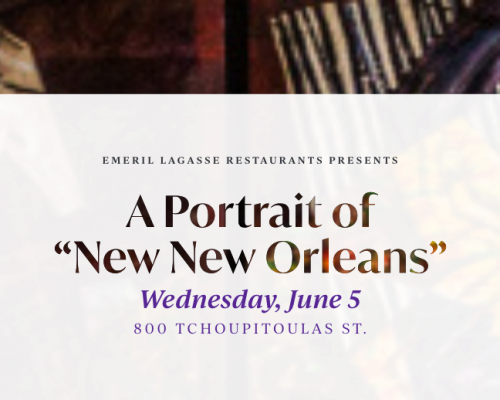 Since opening its doors nearly 30 years ago, Emeril's New Orleans has defined "New New Orleans" cuisine. On Wednesday, June 5th, the institutional restaurant will be the location for the first of four dinners featuring each of the New Orleans based Chef de Cuisines: Chef Douglas Braselman of Emeril's New Orleans, Chef Anthony Scanio of Emeril's Delmonico, Chef Darren Chabert of Meril, Chef Philip Buccieri of NOLA Restaurant, and Pastry Chef Jeremy Fogg of Emeril's New Orleans.
New New Orleans, a concept born from the mind of Chef Emeril Lagasse before opening his flagship restaurant in 1990, is a departure from what he called at the time, "Old New Orleans" cooking: food whose flavor and substance are dominated by two distinctly different cooking styles: Cajun (lusty robust food of the Acadian farmers and fishermen in Southwest Louisiana) and Creole (refined cosmopolitan cuisine brought to New Orleans by early Europeans). New New Orleans cooking is about food that has roots planted in a solid foundation of Creole heritage but has grown through exposure to other exotic cultures: Creole reinvented with an Asian, Portuguese or Southwest flourish. Food that can be whimsical or serious but is always delicious.
The summer dinner series kicks off with "A Portrait of New New Orleans" on June 5th; a five-course progressive tasting menu with each course being conceptualized and prepared by one of the aforementioned chefs. Each dish will be accompanied by wine pairing featuring Lirette Selections.
Tasting Menu
GULF YELLOW FIN TUNA CRUDO
Crystal hot sauce sorbet – radish – cilantro – Zapp's potato chips – Cajun caviar
Phil Buccieri
POMPANO CRIOLLO
crab & coconut rice – roasted plantain – "hurricane" butter sauce
Anthony Scanio
PAN SEARED VEAL SWEETBREADS
mirliton puree – brown butter– warm salad of crawfish, corn and local field peas
Darren Chabert
HORSERADISH BRAISED RAINES FARM BEEF CHEEK
marinated baby squash – melon hot sauce – whipped butter beans
Doug Braselman
TOUCINHO DO CEU
roasted bananas – cane syrup – madeira
Jeremy Fogg
A Portrait of New New Orleans will be a glimpse into the past, present, and future of New New Orleans cuisine; a tribute to our roots, an appreciation of our current success, and an inspiring toast to the future of our food, our customers, and to the unforgettable dining experiences yet to come.
Limited Seats Available. Reservations only. Tickets are $175 per person inclusive of gratuity, not inclusive of taxes or fees.
RESERVE NOW: https://www.eventbrite.com/e/a-portrait-of-new-new-orleans-tickets-62157093540